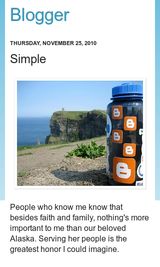 Merry Christmas dear readers. The mobile blog interface is now active for the Education Bubble and Scam Report. That means that on your phone you won't see the full blog screen, which is far too cumbersome, but rather the trimmed down mobile application that Blogspot makes available for users.
After taking a look I am really impressed how easy this application makes viewing this blog on a mobile device.
Now you can keep abreast of EBSR where ever you go: in the cafe, in the student union, at the college hoops game, or in the classroom. Give your college professor the gift of enlightenment. Show him EBSR on your mobile phone!
Thank you to our readers and contributors for making 2012 a good start up year for our blog.